Form: Jacqueline Rose
Name: Jacqueline "Jackie" Rose Image: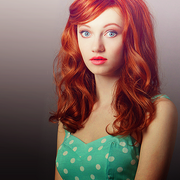 Jacqueline Emerson

Gender:Uh, Female *gestures above*

Age:16

Height:5'4

Personality:Jackie has boundless energy and exerts it constantly. She is uncanny and random by nature, but that's part of her charm. Despite her quirky nature, she tends to know exactly what's going on most of the time, but she can also be rather naive and carefree as well. She is very creative, talented, and kind.

Occupation(s):A student at Hollywood Arts

Family:Jorge Rose(father) Mary Lynn Rose (mother) Elizabeth Rose (sister)

Relationships: Single

Friends:Everyone

Enemies:No one

Interests:New People, Parties

Talent:Singing and Acting

Weaknesses:Over-confident at times

Education:Hollywood Arts, Duhhh!

Portrayer: MEEEEEEEEEEEEEEE!!!!!!!!!!!!!!!!!!!!!!!!!!!!!!!!!!!!