Austin Montgomery has left HA.
and this page has been archived. sorry.
NOTE:
This is a roleplaying location and you may start a new RP in the comments below. Have fun!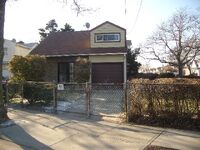 Welcome to the Montgomery home! Only three people live in this little apartment house. It's nothing fancy and it looks really old and slightly rundown. Definitely not a rich person's house.
Residents
Welcome to the Montgomery household! Click a tab to see the members of this house.
Dillon Montgomery

The father of Tanya and Austin. Ex-husband of Lydia Shanks.
Tanya Montgomery

The daughter of Dillon Montgomery and Lydia Shanks. Step-daughter of James Shanks. Sister of Austin. Half-sister of Macey Shanks. Currently dating her college friend Riley.
Rooms
Welcome to the entrance of the house. This is the side-door. We usually park the cars near the side of the house and use this door rather than the main one.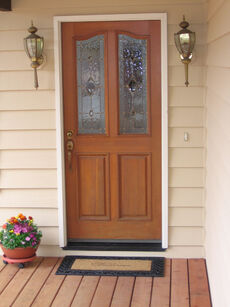 This is our living room, kitchen, and dining area. It's kind of small, but we don't really need a big place. Tanya is trying to convince Dad to change the colors to something besides yellow. Good luck with that since Dad doesn't want to paint anything. I'd love to paint the house, but he's always saying no.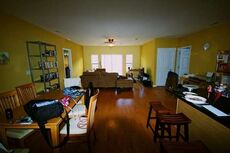 This is my sister's bedroom. It's really small and purple. Luckily, she'll be moving out soon with Riley and I'll be able to use this room as an art room - even if it is purple and girly.